Licensing
Trish Murtha designs are available for licensing to manufacturers.
LICENSING with ME
Thanks so much for "checking me out."  I am a versatile, prolific artist who took a turn years ago to product design and publication design. My award-winning watercolors are my unique source for surface design and collections. So with a brush in one hand, I'm sort of a "pixel pixie" who meets the challenge of staying current and creating collections. I love color and texture and look for it everywhere from trendy runways in Europe to the extraordinary colors in nature. My color-rich eyes are "front and center" on collections for your successful products. Just imagine…
To request full access to my collections, please contact me.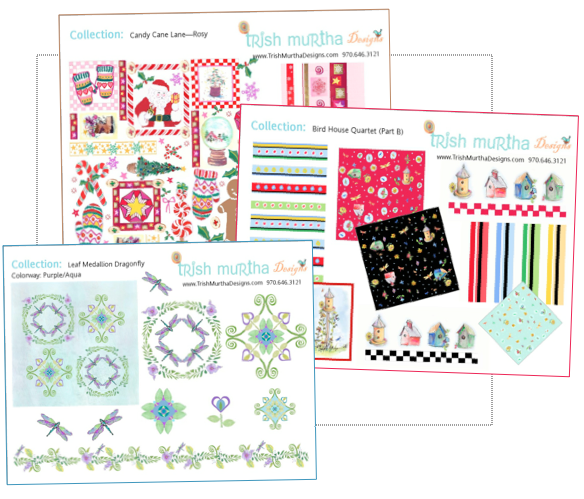 COMMISSIONS
Your custom images will be totally unique and created just for your needs and specifications. I love to work in full color, but also work in black and white.  The commissioned piece or pieces can be developed as a surface design for product manufacture, for print production, for illustration, logos, promotional art or for personal use on custom printed stationery or gifts.
TALK ABOUT DEADLINES
Deadlines and production schedules are my friends, but my attentive attitude and flexibility are the key.  I truly listen to what you and your team need and turn those ideas into surface designs. My professional practices for licensing and custom designs are based on the highest standards of conduct for production schedules and communication with my clients.
FEES, CONTRACTS, AGREEMENTS
I adhere to industry standards for both pricing & ethical guidelines. You may license an existing piece, work with me to develop a collection or commission an original work of art for a specific use. Please contact me so we can talk about working together on successful art work for your products and communicate about contractual details.